Summer Program Blog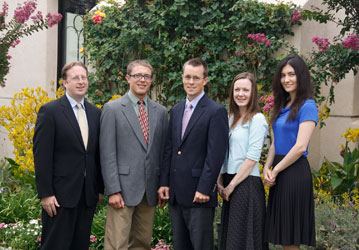 The Admissions Office team looks forward to welcoming some 130 high school students from around the country and abroad to the campus this coming Sunday, July 22, for the Summer Great Books Program. Please check back here regularly for pictures and posts from the program; the blog will be constantly updated throughout the two weeks. We look forward to keeping siblings, friends, parents, and teachers updated about all the classes, activities, and events!

Student check-in for the program is on Sunday, from 9:00 a.m. to 5:00 p.m. There will be a Parents' Orientation for those who can make it at 4:00 p.m. in St. Bernardine of Siena Library, and a barbeque at 5:00 p.m. at the picnic area near the athletic field.

Please call the College at 800-634-9797 or e-mail Jon Daly, Admissions Director, for more information.

Monday the students discussed Macbeth, asking questions such as, "Should we pity Macbeth, or is Lady Macbeth really responsible for their downfall?" They were also introduced to Euclidean geometry, discussing the principles and propositions. For the next five days students will be constructing and demonstrating propositions on the chalkboard. While this may be daunting at first, many students come to love Euclid, and even find that this becomes their favorite class.
The students were also given the opportunity to join Admissions Director Jon Daly and Admissions Counselors Scott Benigar and Louis Conklin for a brief admissions meeting. The students were able to have any of their questions about the application process answered. Mass followed, and after afternoon classes, some students headed down to the athletic fields, while others relaxed in the Commons playing guitars, singing, and continuing their classroom conversations.
Study hall found the students busily reading The Consolation of Philosophy by Boethius and preparing the propositions for the next day's Euclid class, before quieting their minds by praying the rosary. Finally, to end the night, there was the much-anticipated students vs. prefects basketball games. The girls' game was first, followed by the boys' game. Both were well-matched, intense, and a lot of fun, and the prefects managed to pull away for the win in each.
Below are two new slideshows from this weekend's hike and trip to Santa Barbara.