Faith in Action Blog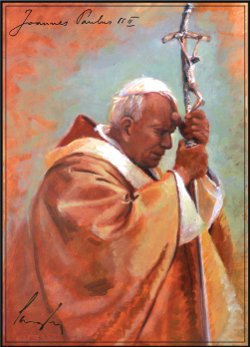 "Bl. John Paul II," by James Langley ('85)"We are having an epic, all-day event for the canonization of Bl. John Paul II in Denver," reports Andrew Whaley ('05).
Mr. Whaley is the owner of Calix Coffee, a consulting business, as well as the manager of the Tolle Lege Coffee Bar & Bookshop at the Augustine Institute in Greenwood Village, Colo. In that latter capacity he has organized a tribute to the late Holy Father that will begin at noon on April 26, and then continue into the early morning of April 27 for Bl. John Paul's canonization.
According to the Denver Catholic Register, the celebration will begin with a group discussion of Pope John Paul II's "Letter to Artists," after which various local artists will display their works depicting His Holiness. That evening, Mr. Whaley will moderate a panel discussion about John Paul II's life and legacy, followed by a musical performance featuring another Thomas Aquinas College graduate, Elizabeth Wood ('11). Then there will be readings from one of Karol Wotijyla's plays, until around midnight,. "We'll keep vigil and pray until the live feed starts," says Mr. Whaley — at which point all eyes will turn to video of the canonization in Rome.
All are welcome. If you care to attend, please RSVP by e-mail or call 303-937-4420.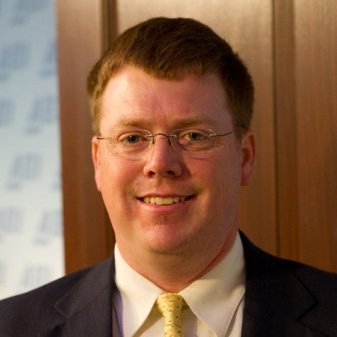 Architect and planner Erik Bootsma ('01) has written a hopeful story for the Adoremus Bulletin about a positive shift in sacred architecture, as evidenced by a new church in Leesburg, Va.:
St. John's is far from the first traditional church built recently in the United States, but it is one that gets the important things right. St. John the Apostle is an encouraging sign that the painfully learned lessons of the past half-century of sacred architecture are starting to be understood by the clergy and the Church as a whole. Laity and clergy alike have learned that sacrificing tradition for fads and the latest styles leads to irrelevance in the next generation, and that art and liturgy that is "up to date" is soon out of date. It is becoming a common understanding now that traditional architectural forms are valued for their usefulness liturgically and spiritually to foster deep connections to the roots of our faith.
Read the full story for more about St. John's, as well as Mr. Bootsma's thoughts about the state of liturgical architecture.
The owner of Bootsma Design Services, Mr. Bootsma received his master's degree in architecture from the University of Notre Dame and is a board member of the National Civic Art Society and of the Mid-Atlantic/Washington Institute of Classical Architecture & Art. He also blogs about ecclesiastical architecture and the philosophy of beauty at The Radiance of Form.
It has come to our attention that back on December 21, 2011, two alumni of the College were signatories to a statement organized by the United States Conference of Catholic Bishops to oppose the HHS contraceptive mandate. The statement (PDF) appeared as a full-page advertisement in that day's New York Times and Washington Post.
Among the signatories, who included some 150 Catholic leaders from across the United States, were Dr. John Damiani ('84), president of the Christus Medicus Foundation, and Mr. Jeremy McNeil ('96), president of the Catholic Professional & Business Group.
The statement reads:
"We, the undersigned, strongly support access to life-affirming health care for all, and the ability of secular and religious groups and individuals to provide and receive such care. That is why we have raised objections to a rule issued by the U.S. Department of Health and Human Services forcing almost all private health plans to cover sterilization procedures and contraceptive drugs, including drugs that may cause an early abortion.
"As written, the rule will force Catholic organizations that play a vital role in providing health care and other needed services either to violate their conscience or severely curtail those services. This would harm both religious freedom and access to health care.
"The HHS mandate puts many faith-based organizations and individuals in an untenable position. But it also harms society as a whole by undermining a long American tradition of respect for religious liberty and freedom of conscience. In a pluralistic society, our health care system should respect the religious and ethical convictions of all. We ask Congress, the Administration, and our fellow Americans to acknowledge this truth and work with us to reform the law accordingly."
The statement was also signed by His Eminence Timothy Cardinal Dolan, Archbishop of New York, and the Most Rev. José H. Gomez, Archbishop of Los Angeles.