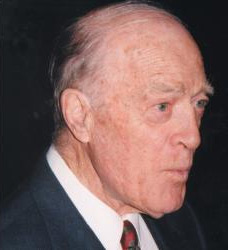 On January 17, 2006, Thomas Aquinas College suffered the loss of a great man and a dear friend whose tireless dedication to the College's mission will never be forgotten.
Francis J. Montgomery was the epitome of a Christian gentleman. He was born on March 18, 1913, in Santa Monica, Calif., attended Loyola High School, and later graduated from Loyola University in Los Angeles. He studied at Georgetown University, as well, and served in the United States Navy during World War II. A stalwart of the Los Angeles business community for over 60 years, Mr. Montgomery was the longtime chief executive officer of Montgomery Management Co., a family real-estate management and development business based in West Hollywood.
Above all else, Francis Montgomery was a man who loved God and His Church with a powerful and joyful fervor. He was a Knight of Malta, a Knight of the Holy Sepulcher, and a founding member of the Board of Governors of Thomas Aquinas College, to which he devoted a tremendous amount of time and treasure over more than 30 years to help ensure the College's well-being. In recognition of their outstanding generosity, Francis, and his wife, Marion, were inducted in 1998 into the Order of St. Albert the Great, membership in which is reserved for the College's most generous benefactors.
Mr. Montgomery was instrumental in the very foundation of the College. Through his good offices, Cardinal McIntyre invited Thomas Aquinas College into the Archdiocese of Los Angeles and gave the new institution his approbation. Recalling the assistance Francis gave the College over the years, President Thomas E. Dillon , said, "He helped us in countless ways, but what I am most thankful for was his sound advice and good counsel." Francis leaves a lasting legacy at the College that continues to this day with his son, Mark E. Montgomery, now serving as a Governor of the College.
A man of many talents and interests, Mr. Montgomery was an avid outdoorsman and enjoyed such activities as hiking, hunting, skiing, fishing, golf, and even aviation. He was preceded in death by his beloved wife, Marion Harkins Montgomery, and three of their dear children, Cecilia, George, and Paul Montgomery. He leaves behind three cherished children, Mark (and Irene) Montgomery, Elaine (and Bill) Mills, and Mary Montgomery, as well as three grandchildren.
A Mass of Christian Burial was offered for Mr. Montgomery at his parish of St. Victor's in West Hollywood. Pastor Emeritus Monsignor George Parnassus, a longtime friend of Francis Montgomery and of Thomas Aquinas College, presided at the Mass at which the Thomas Aquinas College Choir sang. In his sermon, Monsignor Parnassus recounted the way in which Francis Montgomery steadfastly held on to his Catholic faith — even amidst the many turmoils of recent decades — and how at Thomas Aquinas College, he delighted to find the attitudes, beliefs, and mores of a "better time … So much so that not only did he give generously to the College, he also asked his friends to join him in supporting it."
Following the funeral Mass, Peter DeLuca, a TAC co-founder, gave a eulogy, noting at the outset that "Francis would not have wanted praise; he would have asked instead for prayers for the happy repose of his soul."
Though the Thomas Aquinas College community grieves the loss of a dear and cherished friend, it also finds solace in the goodness of the life he lived and takes comfort with his family in Our Lord's promise: "He who does what is true comes to the light, that it may be clearly seen that his deeds have been wrought by God" (John 3:21).
(Thomas Aquinas College Newsletter, Spring 2006)
An interview with Francis J. Montgomery
Conducted January 29, 1998
Q. Tell us first about your background in the commercial real estate business.
A. My grandparents acquired a lot of land in the Los Angeles area, going way back into last century, and we still have some of it. One part of it is Sunset Plaza, a shopping center on Sunset Blvd. in West Hollywood. My father developed it back in the '30s and '40s, and I helped him. In the last 10 or 15 years, that property has developed into a fashionable place, with seven different restaurants, and several high-end shops.
My father left the business in 1950, and my brother and I continued developing the property there. My brother passed away about 10 years ago, and his son, Francis S. "Frenchy" Montgomery, is now President. While our business is the ownership and management of bits of real estate, warehouse buildings, and so on, Sunset Plaza is our main business.
Q. How did you first become involved in Thomas Aquinas College?
A. My daughter was at the University of San Diego in 1968, and I met one of her teachers, Dick George, who was involved in starting Thomas Aquinas College. Through him, I met this group, and was in on the deal from 1969, when they were operating on the idea that they would start up in San Rafael.
Q. Why did you choose to become involved in Thomas Aquinas College instead of some other school?
A. My dad's half-brother was the coadjutor bishop of San Francisco in the late 1800s. My dad had instigated in bringing the Jesuits to Los Angeles to take over St. Vincent's. I graduated from Loyola-LA, and so I always had an instinctive connection to Catholic education. Then I got onto the Board of Immaculate Heart College in 1964, and soon discovered that it was a pretty corrupt place. I resigned in 1968 with a public letter of resignation, which prompted their attorney to threaten to sue me, but I had supported all of my allegations, and so they didn't. Immaculate Heart lasted about seven years after that and then folded. So I had developed a lot of suspicions about Catholic education by then.
Fr. John Houle, S.J. — the one on whom a miracle was performed to support the canonization of Claude de la Columbierre — had told me about that time, when I had asked him where should I send kids to college, not send them to any Catholic college. His reason was that the Catholic colleges are teaching the same bad things that are taught in public colleges, and while a student can reject those things in the public college, they are inclined to accept it in a Catholic college. This is on the average, I must say.
I used to argue with these fellows at Thomas Aquinas College that they should not take the trouble to start up a new college, but to stay in the colleges in which they were, and continue doing their own good. But they rejected that concept, saying that whatever good they might be doing there would be canceled out by other professors. The net result would be a loss, they said. They convinced me.
Q. What expectations did you have for the success of the College at the time?
A. I figured it was a good bet. These people were good people and good teachers, and they convinced my they could do a lot more good for education together, than separately. I consider that Thomas Aquinas College has been subject to more than one miracle.
For example, Ron McArthur had set July 9, 1971, as the make-or-break date. They had 24 students lined up, and they needed another $150,000. Ron called me on July 9, and said, "Francis, we did not make it. We're gonna have to call the kids and tell them it's off." I'm always a procrastinator, and so I told him, "Why don't you wait a week?" So he did. In the meantime, along comes [fellow Board of Governor member] Ed Martin, and he raised the difference. A week later, we had the money — and from people who had never given us any more money. That's kind of miraculous.
If you hang around long enough, you can see it's got God's support. It's been a great pleasure, and opportunity to be connected to this place.
Q. What impact do you see the College having on the life of society and the Church?
A. The worse the Church gets, the greater the need exists to have straight-thinking Catholics — the need grows in inverse proportion to the quality of the Church. If anybody will make an impact, it will be because of people coming from Thomas Aquinas College, along with other people who are like-minded. People coming out of the College now will have the opportunity, in 30 or 40 years, in taking up the battle cry successfully.
Q. Has the College influenced your own spiritual life in any way?
A. Oh, absolutely. This place emanates spirituality. That's why so many enter the religious life after they leave here. You just sort of absorb it. Of course, there is good reason for that. You're isolated from most of the temptations of the world.
Q. You have been wonderfully generous to the College over the years. How would you describe your commitment to it?
A. The College life here is so important to living, in contrast to what the rest of the world offers. It's a big thing in my life. People thank me for what I've done for the College. I can thank them just as well.