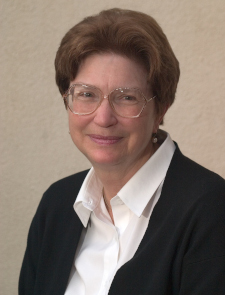 An emerita member of the Thomas Aquinas College Board of Governors, Maria O. Grant served as the Board's Chairman from 2003 to 2009. She is an Overseer at the Huntington Library, Gardens and Art Collections and a tour guide at the Huntington Library and the Norton Simon Museum. Mrs. Grant has been affiliated with the Huntington Library since 1985, having served as a Docent, and as Chairman of the Overseers' Marketing Committee, Chairman of the Overseers' Education Committee, and research assistant in American Art and 19th Century Photography.
Mrs. Grant obtained her B.A. in history from Stanford University in 1966 and a master's in education there the following year. After continuing graduate work in African History, she married Richard A. Grant and settled down to raise two daughters. During that time, she remained involved in parish and community affairs, serving as a confirmation teacher and CCD teacher, and from 1972 to 1981 was a Board Member, Treasurer, and President of the Pasadena Mental Health Association. From 1981 to 1984, she worked in Training, Sales Support, and database management for Computerland of Pasadena.
Mr. and Mrs. Grant have long been active in charitable and philanthropic efforts. He is the former president and she is a trustee with the Dan Murphy Foundation, which assists important Roman Catholic and other philanthropic causes, including Thomas Aquinas College. Both are active members of St. Andrew's Parish in Pasadena, where she serves as a lector. Mrs. Grant has also been on the board of Mayfield Senior School, a private school in Pasadena, and the Don Bosco Technical Institute, which helps disadvantaged youths acquire trade skills. She has chaired the Technical Support Committee for Las Madrinas (Children's Hospital Los Angeles Guild).