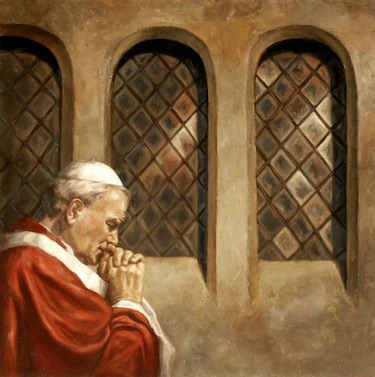 After graduating from Thomas Aquinas College in 1999, Maria Rangel earned a B.F.A. in fine arts from the Laguna College of Art and Design in Laguna Beach, Calif. A professional fine artist, she currently works from her art studio in Santa Ana, specializing in drawing and painting.
Miss Rangel has taught art at John Paul the Great Catholic University in San Diego, and her art can be seen in numerous locations throughout Southern California. "Similar to the painters of the Renaissance," she writes on her website, "my artistic ambition lies in producing art which is beautiful and at the same time full of meaning. I find great pleasure in producing a work of art that can bring joy and beauty into someone's life everytime they look at it."
Her art, like the College's classical curriculum, calls on the best works of the Western tradition. "Looking at the great art of the past," she notes, "one can ask: What makes this work endure, century after century, enticing each new viewer to gaze with wonder at its mastery?" Perhaps not surprisingly, she credits as her own inspirations "the painters of the Italian Renaissance — such as Da Vinci and Botticelli, John Singer Sargent, The American Landscape Impressionists, and George Inness."
To learn more about Miss Rangel's work, visit her studio's website at rangelstudios.com.