The Selected Sermons of Rev. Thomas A. McGovern, S.J.
"As Catholics we have reason for lasting and deep joy. The Incarnation means that God Himself is now one of us; God is now our brother in the flesh, has a mother. The Second Person of the Triune God emptied Himself to assume the condition of a slave, to become as men are. The Incarnation has given new value and fresh beauty to all life."
— Rev. Thomas A. McGovern, S.J.
Thomas Aquinas College has published a collection of sermons by one of its most beloved tutors, the late Rev. Thomas McGovern, S.J. This book was a project close to the heart of the College's founding president, Dr. Ronald P. McArthur. After waiting nearly 30 years for the publication of Fr. McGovern's sermons, Dr. McArthur dictated the Foreword in the last week of his life.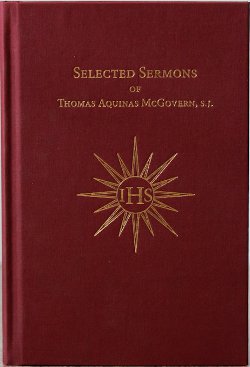 Edited by alumna Suzie Andres ('87), for whom the work was truly a labor of love, Selected Sermons begins on the first Sunday of Advent and includes sermons for all the Sundays of the Seasons of the liturgical year. An additional section features sermons for special feasts and occasions, from Solemnities of Our Lord, to Saints' days and Baccalaureates. The collection concludes with Dr. McArthur's favorite among Fr. McGovern's sermons, "This Most Blessed of Sacraments," originally published in The Wanderer (shortly after Father's death in February of 1985) and subsequently reprinted in Homiletic and Pastoral Review.
In Selected Sermons, the reader will find not only the wit, wisdom, and humility for which Fr. McGovern was known and loved by his students and colleagues, but also the good fruit of his lifelong discipleship to St. Thomas Aquinas, the Angelic Doctor.
"Having studied at Laval, Fr. McGovern was a disciple of St. Thomas and Aristotle. He found people of like mind at the College . . . I think his are the best sermons you can read now. I can't believe that Chrysostom and the Fathers of the Church have written better; his sermon on the Blessed Sacrament, in particular, is simply breathtaking."
—From the Foreword by Dr. Ronald P. McArthur