In his homily, Fr. Sherwin reflected on St. Thomas's humility. When his superiors reassigned him from teaching at the prestigious University of Paris to a much simpler position at the Dominican priory in Orvieto, Italy, the sainted friar responded with the confidence that "in every event in our lives, God's Providence puts us in the right place," said Fr. Sherwin. "He lived to perfect himself in a quiet and humble way."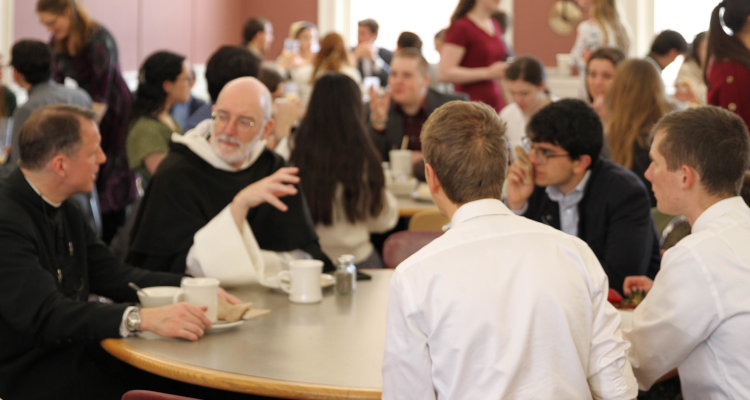 After Mass and brunch, students, faculty, and guests converged on Dolben Auditorium for Fr. Sherwin's St. Thomas Day Lecture, his third for the College and first for the New England campus. This year, Father addressed the need for St. Thomas's lucid wisdom in our muddled times, recalling three other periods when the Angelic Doctor's clarity proved indispensable: the 14th century controversy surrounding William of Ockham's rejection of universals, the theological and political turmoil of the Protestant Reformation in the 16th century, and the 19th century denial of nature, spearheaded by Friedrich Nietzsche.
"The principles of Aquinas's natural philosophy reveal little, but what they reveal are the very qualitative aspects of the natural world, the neglect or denial of which has led to the crises of modern times," said Fr. Sherwin. "We need to rediscover the natures of things, which Thomas's humble philosophy of nature can provide."
In the evening, after a dinner of tri-tip steak, students and faculty gathered in the Bl. Pier Giorgio Frassati Student Center for Trivial Quadrivial Pursuits, a competitive, madcap game based on the College's classical curriculum. Per tradition, the students were divided into three teams named for the three arts of the classical Trivium: Grammarians, Logicians, and Rhetoricians.