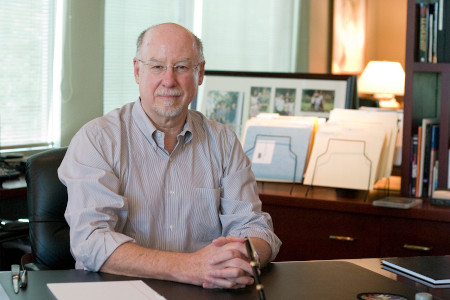 Long before joining the Board of Governors in 2010, Dr. Thomas Krause actively supported Thomas Aquinas College as a benefactor, a parent and, perhaps most notably, an employer. A founding partner at the Krause Bell Group, an international consulting firm specializing in organizational culture and safety management, Dr. Krause regularly hires the College's graduates — and with great success.
A native of Northern California, Dr. Krause learned of the College around the time he started practicing psychology in the nearby city of Ojai in the 1970s. "Hearing about the curriculum locally caused me to be interested because I knew I had never read all those books, even though I had a PhD in a social science," he says. Then his sister-in-law Leslie Hidley ('86) enrolled as a freshman in 1982 and "had a really wonderful time," confirming his positive first impressions.
When his daughter Christel (Kelsey '91) was nearing graduation from high school, Dr. Krause and his wife, Cathryn, were determined to send her to the College. "She had been accepted at a really good school, an Ivy League-kind of college, and that's where she wanted to go," Dr. Krause recalls, but Christel agreed to give the College a try. During her time on campus, she "got taken with the curriculum," as well as with the Faith, converting in her freshman year.
"None of us were Catholic at that time," Dr. Krause observes, "but most of the family is now," including Dr. and Mrs. Krause, who have also since been received into the Church. "Christel's conversion had a big influence on me in that it caused me to rethink things I hadn't thought about in a long time."
Enthused by Christel's learning, in 1990 Dr. and Mrs. Krause joined the President's Council — the College's financial backbone, consisting of hundreds of loyal benefactors who contribute $1,000 or more annually. As a token of gratitude, the College invites Council members to its Great Books Weekends each July, which the Krauses enjoyed immensely. "It was those early seminars that really got us interested; it was having the actual experience of reading and discussing those books," Dr. Krause remembers.
Eager to get a further taste of such an education, he went on to earn a master's degree in liberal arts through a program at St. John's College in Santa Fe, N.M., where he has been a member of the Board of Visitors and Governors since 2001.
When Christel and her friends began graduating from the College, Dr. Krause began hiring alumni for Behavioral Science Technology, Inc., a company he founded in 1979 and ran until selling it in 2012. He soon discovered that these liberally educated men and women made for exemplary workers, chiefly for three reasons: First, through reading political philosophy the College's graduates acquire a proper sense of citizenship. "A good citizen is someone who understands the overall objectives of the organization and works hard to accomplish them," he says. "It's almost rare these days to find someone that gets the idea of organizational citizenship. It's an idea that's almost lost in the modern culture."
Second, Dr. Krause finds that because of their knowledge of the Discussion Method, the College's alumni are uniquely adept at solving problems and working cooperatively. "If your task is to, say, lead a discussion with a client, you need to have some familiarity with what a discussion is and how a set of issues gets approached," he explains.
Finally, Dr. Krause notes that the graduates' thoughtful study of philosophy prepares them for the modern economy, where intricate and impersonal relationships, often far-removed, can complicate ethical decision-making. "What the employer is looking for is an employee who gets that (complexity), is willing to examine it carefully, and behaves in a way that's consistent with an ethical standard," he says.
"When you're looking to hire someone, you're looking for someone you think of as a good person, someone who will be a good colleague," Dr. Krause adds. "It's very hard to tell when you interview people who's going to be like that because everyone is trying hard to look like that…. So, knowing that (an applicant) went to a college like Thomas Aquinas gives you a kind of direction that goes in a positive way."
Dr. Krause's experience — as both a parent and an employer — has sustained his generosity toward the College over the years as a member of both the President's Council and the Board of Governors. "I think it's very important to American Catholicism that there is a place like Thomas Aquinas College," he says. "It is the only place of its kind in the U.S. That's good for education and it's good for Catholicism. So as a Catholic and as a citizen, I have at least two reasons to support the institution."